Dilators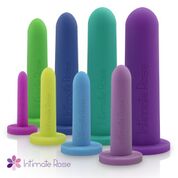 Intimate Rose vaginal dilators use a smooth, body safe, medical grade silicone that's BPA free and designed to glide into the vaginal opening for more comfortable use. Unlike any other vaginal dilators on the market, they are not sticky or hard.
Designed by a pelvic health expert, the graduated sizes in our dilators for women allow you to find the perfect fit and to progress towards your goals. They are recommended for vaginitis treatment, atrophy, vulvodynia, vaginismus, therapy after radiation, after hysterectomy surgery and generalized vaginal pain that is not caused by infection.
Daily use of dilators, coupled with relaxation techniques and focused attention on training the muscles, will result in achieving your goals.
Dilators are available for purchase on Intimate Rose.