Relieving Pelvic Pain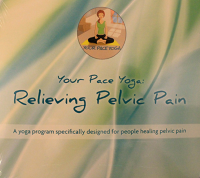 This home yoga program, created by Dustienne Miller, board certified women's health physical therapist and Kripalu-trained yoga teacher, is designed for men and women who are healing chronic pelvic pain.

Your Pace Yoga: Relieving Pelvic Pain can be practiced in as little as 20 minutes, setting you up for a successful home program implementation.

The video brings together breath work, meditation, body awareness, and gentle yoga postures to give you strategies to decrease pelvic pain and move with increased ease.

In this video, we focus on down-training the nervous system and releasing the muscles that attach to the pelvis and hips.

Your Pace Yoga: Relieving Pelvic Pain is recommended for men and women with pelvic health concerns, including:
vulvar pain
endometriosis
chronic non-bacterial prostatitis
coccydynia
pudendal neuralgia
bladder pain
urinary urgency/frequency
constipation
irritable bowel syndrome
other pain associated with pelvic floor dysfunction

Learn more in the "Relieving Pelvic Pain" blog article.

You may purchase the book today on Your Pace Yoga .