Healing Pelvic and Abdominal Pain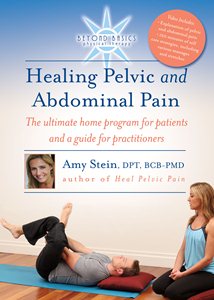 This video, by internationally renowned physical therapist, Amy Stein, DPT, is for men, women and children experiencing IC/PBS, IBS, Vulvodynia, Endometriosis, Non-bacterial Prostatitis, and other unexplained back, pelvic, tailbone, abdominal, bladder, bowel, genital, and sexual pain and dysfunction. The 130-minute film discusses and demonstrates:
Symptoms and causes of pelvic pain
Relaxation techniques and behavioral modifications
Massage techniques for lying, seated, and standing
Internal: Vaginal, Rectal, Dilators/ External: Colon Massage, Back, Abdomen, Lower Body, Pelvic Floor
Stretches to relieve pain: pelvic and abdominal, hip rotator, flexor and extensor stretches
"Amy Stein's Healing Pelvic and Abdominal Pain is a great start to relieving, and possibly curing, abdomino-pelvic pain. Her DVD is intelligent and compassionate, a must for anyone suffering from pelvic or abdominal pain." — Dr. Fred Howard, Ob-Gyn, Founder of the International Pelvic Pain Society.
For more information, please visit http://www.healpelvicpain.com/ or www.amazon.com