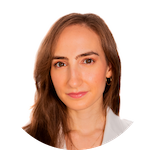 Dr. Melanie Carminati, PT, DPT, GTS, NCPT
Tell us about yourself – your expertise, practice, and area of research
I am the Founder of Inspira Physical Therapy located at 219 5th Avenue in Park Slope, Brooklyn, NY. Inspira Physical Therapy and Wellness specializes in Advanced Orthopedics, Pelvic Floor, Dance Physical Therapy, TMJ Dysfunction, Osteopathic & Holistic Treatments [Craniosacral therapy & Visceral Manipulation and Pilates Rehabilitation]
I am also an educator, previously teaching at Fordham University for the Anatomy & Kinesiology course. In addition, I host workshops and lectures on physical therapy and Pilates. Last month, I hosted a public lecture on Pelvic Pain which received over 30 attendees. I also host my own podcast called Know & Do Better featuring topics in health & wellness. My upcoming podcast coming Thursday, August 11 is titled, Endometriosis Spreading Knowledge & Answering Common Questions with Dr. Lora Liu of Pelvic Rehabilitation Medicine." Listen on Spotify, YouTube, or Apple Podcasts. In addition, I have worked as a teaching assistant for Herman & Wallace Level 1 and 2a.
Where do you currently practice? What type of patients do you treat?
I currently practice at my own clinic with a small team of Pelvic PTs and Pilates teachers at 219 5th Avenue, Brooklyn NY. We treat all types of patients as Inspira Physical Therapy specializes in Advanced Orthopedics, Pelvic Floor, Dance Physical Therapy, TMJ Dysfunction, Osteopathic & Holistic Treatments [Craniosacral therapy & Visceral Manipulation and Pilates Rehabilitation]. We typically treat complex orthopedic cases and pelvic floor cases.
Where did you complete your training?
I received my Doctor of Physical Therapy from Drexel University. I completed my final graduate internship at Polestar Physical Therapy & Pilates in Miami and had the opportunity to treat complex orthopedic cases there. I have attended continuing education courses with Polestar Pilates, Herman & Wallace, IPA, NAIOMT, Upledger, and Barral Institute.