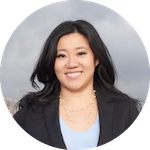 Corey Hazama, PT, DPT, OCS, CFMT, PRPC, WCS
Tell us about yourself – your expertise, practice, and area of research.
I am trained and certified in a number of specialized therapeutic areas and have logged more than 1000 hours of continuing education coursework over my professional career. I am one of the few physical therapists in the nation to become a board-certified orthopedic specialist (OCS), and am also a Certified Functional Manual Therapist (CFMT). I recently achieved the title of Women's Health Clinical Specialist with the American Physical Therapy Association (APTA). I am an active participant in mentoring and have assisted in teaching for the Institute of Physical Art (Functional Visceral Mobilization Course) and I have traveled to Japan previously where I assisted my husband in teaching Institute of Physical Art courses to Japanese physical therapists.
Where do you currently practice? What type of patients do you treat?
Beyond Basics is an international leader in pelvic floor physical therapy located in Midtown and Downtown Manhattan. Since 2003, we have helped thousands of people recover from a broad range of conditions rooted in pelvic floor dysfunction. We create individualized treatment plans that relieve pain, improve function, and prevent unnecessary surgery, while providing comprehensive support to help you on your journey to recovery.
Where did you complete your training?
Bachelor of Science in Physical Therapy, Simmons College. Doctorate in Physical Therapy, Simmons College. APTA Certified Orthopedic Specialist (OCS). APTA Certified Women's Health Clinical Specialist (WCS). Certified Functional Manual Therapist (CMFT). Institute of Physical Art Pelvic Rehabilitation Certification. Herman and Wallace Pelvic Floor Rehabilitation Institute.
What contributions have you made to IPPS?
I currently serve as Vice Chair of the Medical Education Committee, and have taught at the IPPS Annual Pre-Course.